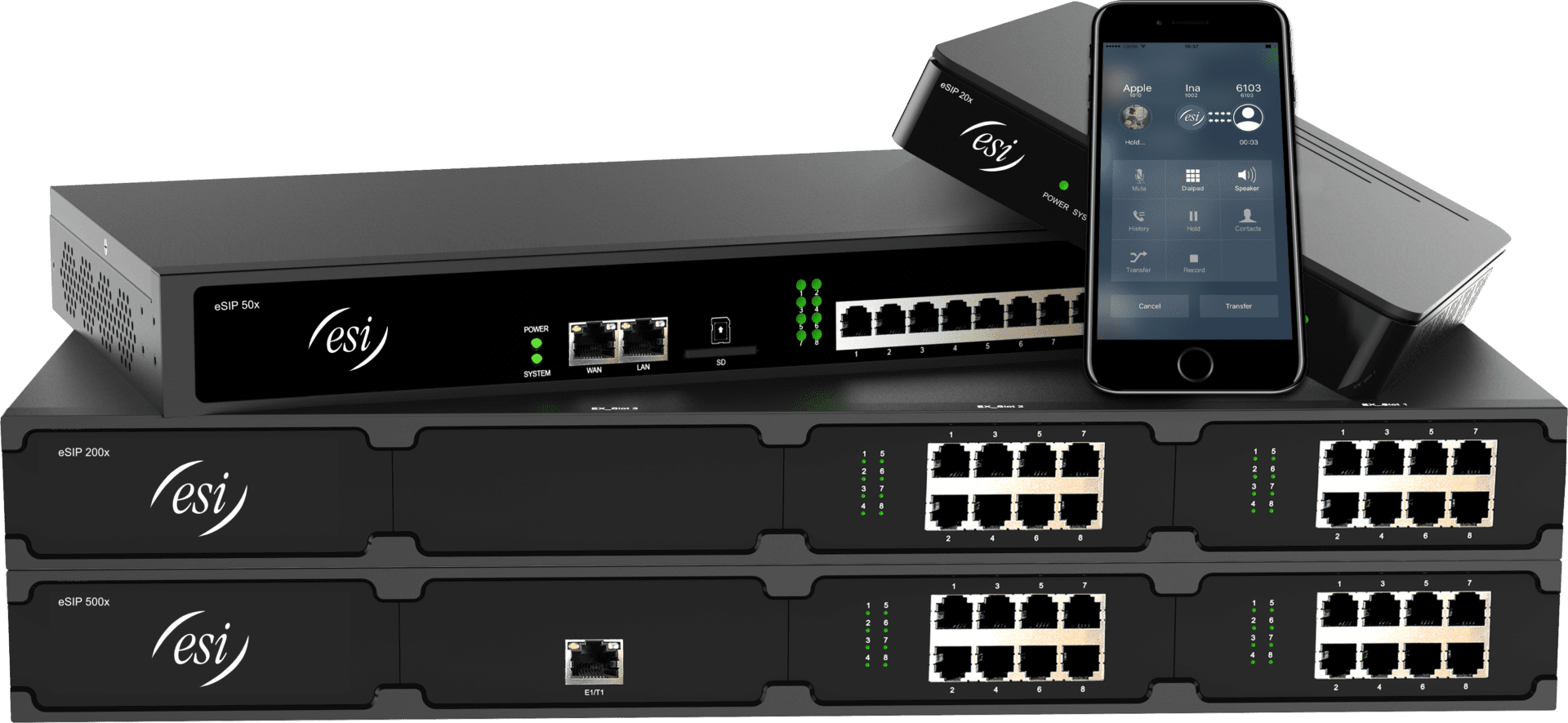 ESI eSIP Evolution Series™
Premium Power, Performance and Security
The all-new ESI eSIP Evolution Series™ delivers power, performance, flexibility, and scalability for small to mid-sized enterprises up to 500 users. With a modular design that uses the very latest advanced standards-based technology, the eSIP Evolution Series is engineered for the communications needs of today, while "future-proofing" your investment with the ability to grow along with your organization in the future.
Easy to Deploy
Premium Technology & Features
Power & Performance
Secure & Reliable
Key Features & Benefits:
Quick multi-site & connections
Advanced call handling options
Built- in call recording capability
Conferencing & three- way calling
Visual voice mail & Email to SMS
Web-based management
Powerful add-ons include: eMoblie app for Smartphones, auto-provisioning, LDAP, Conference panel, VPN server, and more!
Save Your Business Time & Money with Internet-Based Telephone Systems
As technology progresses and moves forward; unfortunately, with most of the hosted/cloud VoIP companies, their customer service seems to digress.
You would like to hear "Let me show you how to" or "I will be glad to make that change for you". Instead, you hear, "go to our Wiki page" or "use our intuitive website."
That's not customer service, and begs to answer the question "who is paying who"?
That is how CallNet is different, from design to implementation to daily changes, our team does it all.
CallNet accommodates the new entrepreneur all the way up to the fortune 50 companies of the world without additional capital expenditures.
Karlson Communications Company
Offers Custom Voice and Data Network Wiring
Every solid foundation can be attributed to three things: stability, cohesion, and consistency. Using the three pillars of a solid foundation, Karlson Communications works tirelessly to lay the groundwork to build your business's voice and data foundation with high-quality wiring. Because just as your pipes are important to your plumbing, your data and voice cabling are the foundation of your office communications.
Often the forgotten component of any network design, your computer network cabling infrastructure can become your biggest headache. Bringing cohesion and efficiency to every project, we design a diagram and plan a structured cable plant design for your building. This brings stability to your office because it simplifies the management of moves, adds and changes, which comprise a majority of your day-to-day administration headaches, and provides you with a reliable infrastructure for data transport.
Our experts at Karlson Communications design your installation to fit your unique space and usage needs by using CAT-6, CAT-6a, and CAT-7, and Fiber cables. Having designed and implemented sophisticated wiring infrastructures for clients throughout the Carolinas, our experts will help you in implementing a "transparent", structured cabling system that allows you to concentrate on more important issues, such as running your network.